The vertical high-speed integral gear pump utilizes single-stage or two-stage gear speed increase.
The inlet and outlet flanges of the pump body are symmetrically positioned on the same horizontal line.
Product Overview
The GSBL series is a high-speed, vertical, single-stage, internally geared process pump designed in accordance with the API 610 standard OH6.
It features a modular design with an independent gearbox and wet-end. Each pump is custom-built to meet the Best Efficiency Point (BEP) for each customer's application.
These pumps, which comply with API standards, offer rugged reliability and high efficiency.
Special hydraulic inducers are used to reduce NPSHr and improve suction capability.
The pumps are fully interchangeable with most current high-speed pumps on the market and come with upgrade features.
Application:
• Petroleum refining and petrochemical production
• Oil and gas processes
• Power generation processes, such as boiler feed pumps
The pumps are suitable for pumping clean or corrosive liquids with solid sizes smaller than 0.1mm and viscosities less than 500 CP.
They can be used as a substitute for reciprocating and multistage centrifugal pumps in low flow, high head applications.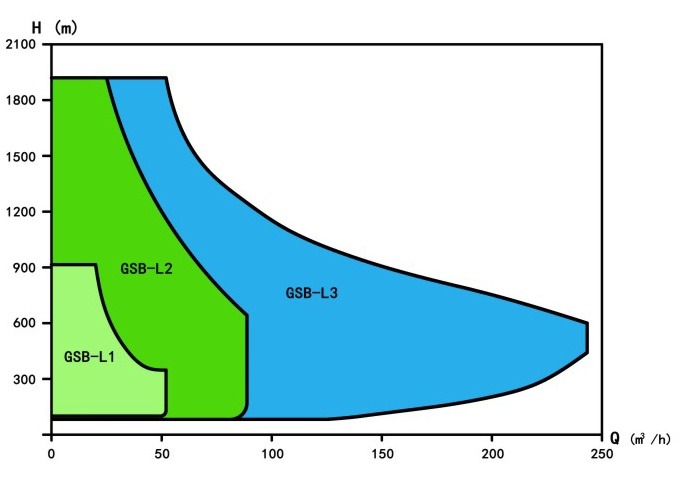 1. GSB: High-speed Pumps
2. L: Vertical 1-Single stage increase speed,
2-two stage increase speed, 3-two stage increase speed for high power
3. Flow: Design point flow (m3/h)
4. Head : Design point head (m)

Force lubrication
Vertical high-speed integral gear pump
The pumps use single-stage or two stage gear speed increase.
Inlet and outlet flanges of the pump body form the symmetry on the same horizontal line